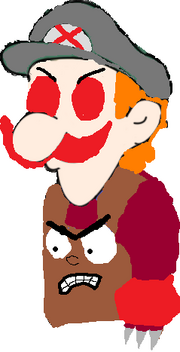 Super Hyper Epic
Greegee
 is what you get when Greegee is mixed with
Super Hyper Epic EVIL
.
Unlike Greegee, he can speak, and is carried by Griigiiz, but if they are killed, he floats. He is half the size of Mickurey Mouse. He is also Teawntoomawn's worst nightmare.
Trivia
He isn't always in the universe, Greegee thinks he is less powerful than his normal form.
Even though he is bigger, his power is half the amount
After his famous quote "Destroy The Cosmos!" His eyes started to blaze.
Destroy The Cosmos!
Obey me Greegee, I am your master,
Everything is your enemy
Obey Greegee... DESTROY THE COSMOS!