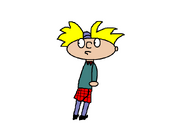 The Awrnuld Fad is a fad with 'Hey Arnold!' based Fakegee's.
Members
Awrnuld (Leader)
DAVID PATKI
Sehd
Steenkie
Herruld
Helguh
Grawrnuld
Bawrnuld
Dawrnuld
Zawrnuld
Gawrnold
Arnoold
Arnoldgee
Sidgee
Stinkygee
Parkgee
Peepawd Keed
Stewp Keed
Eujeen
Xarnold
Arnol
Geral
Si
Stink
Par
Peapod Ki
Peapod Gee
Ernold Shortmahn
Sutarnold
Suterald
Sutinky
Munarnold
Munerald
Muninky
Hypnawrnuld
Sutawrnuld
Braynee
Arnoldtran
Parktran
Peapodtran
Awrnawld Shortmayin
Jhearawld
Stinkee
Awrnee
Urnee
Parkgee
Arnoldgee
ArnoldGeeGeeGee
ArnoldAlleoAlleoAlleo
Community content is available under
CC-BY-SA
unless otherwise noted.